Women 4 Empowerment provides important and essential life skills and purpose for a woman to lead a full and productive life without dependence on charity leading to a sustainable life with Dignity.
Our vision is focused on boosting the status of women through literacy, education, and training to allow her to let her light shine. Women's equality and empowerment is one of the 17 United Nations (UN) Sustainable Development Goals (SDG).
W4E Projects:
Our Focus:
● Business training
● Life skills training and education
● Social business and entrepreneurship; women supporting women owned businesses
● Economic empowerment – access to financial literacy resources and training
● Health and Wellness – access to mental health resources, health literacy resources and training
● Empowerment Projects
● Empowerment Scholarships
Our Projects and the opportunities we avail are designed to increase inclusive and equitable access to economic empowerment, skill development, education, health, and wealth. With decades of combined impact investment experience, in the west coast, east coast and globally , our intentionally diverse team reimagines how to connect capital and underrepresented communities.
Focus:
Communities and women with no credit history need small businesses. Small businesses need access to capital. Solutions require people- and place-based strategies and long term sustainability. Our Social credit which is impact investment for communities and underserved population.
● We invest in Inclusive entrepreneurship & community development Small businesses and nonprofits are the lifeblood of local economies. But too many are either ignored or preyed upon by the current financial system. Unfortunately, these are often the organizations that are delivering critical services, creating paths to quality jobs, and leading inclusive economic development.
● Accelerating change through impact investing
● Bold visions, innovative enterprises, and great community programs deserve the opportunity to succeed. Unfortunately, many businesses and communities are unable to access the capital they need from traditional funding sources. The result is too many worthwhile endeavors struggling to achieve scale. The model of Social credit with active working partners is ever ready to bring in investors and connect them to the community first.
● W4e launched in 2012 to fill the gap between philanthropy and traditional investments—commonly known as "impact/social investing." With the right mechanisms—and the right partners—we CAN accelerate positive social change.
● We work with local and national investors to help them create the impact they want and work with businesses and community partners to help them get the capital they need. We make it easy to invest in your community.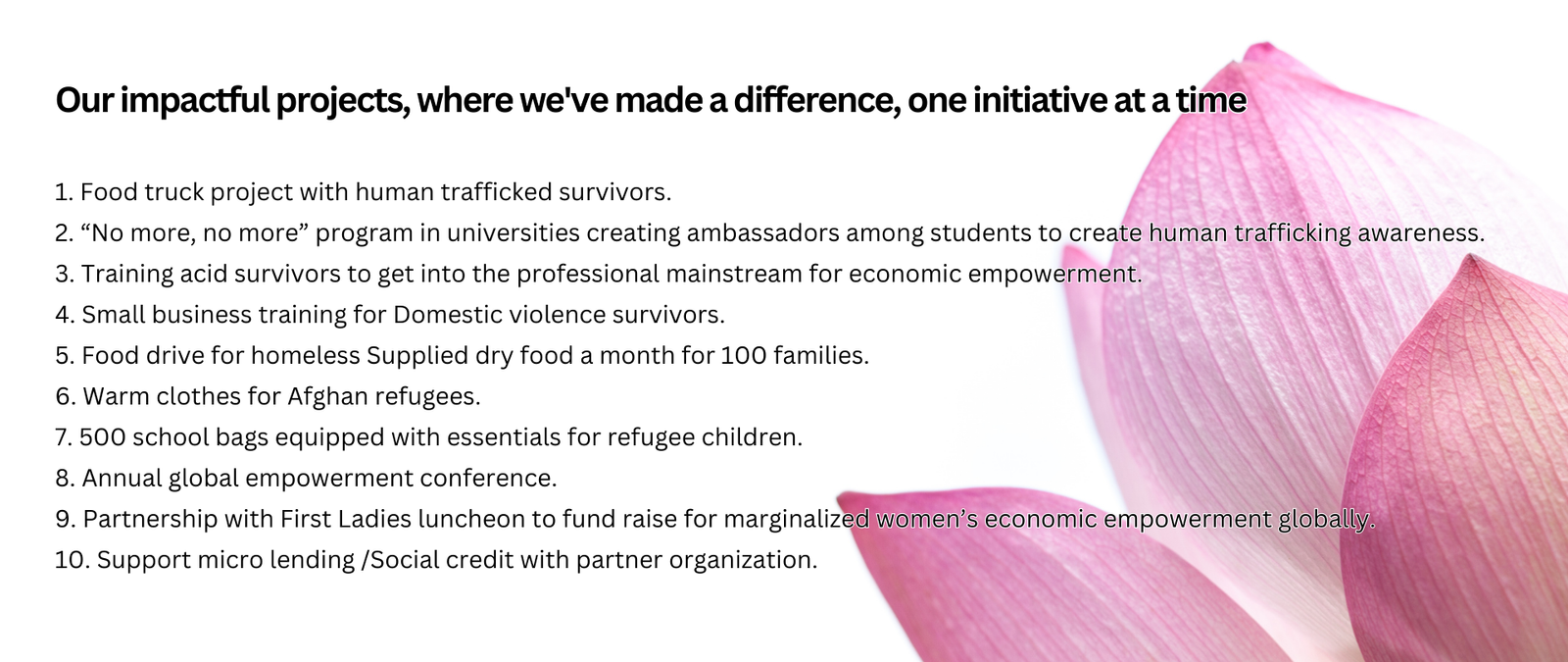 ONGOING PROJECTS/ PROGRAM:
1. FRESH COOKED MEALS DISTRIBUTION & DRY FOOD DISTRIBUTION:
W4E partnered with local partners like Maqaam-e-Ibrahim Islamic Center (MIIC) in collaboration with them we have supplied cooked meals and dry food to refugee camps and homeless population in Maryland.
Our support and donation went toward providing vital services that enriched the mind, body and soul of disenfranchised people experiencing homelessness. W4E continues to provide regular food donations that feed the homeless and disenfranchised by supporting organizations like the Salvation Army and Manna Food Center. In line with our mission to empower under-served women, we also provide food to women's shelters across Maryland County.
2. WARM CLOTHES DONATIONS AND BLANKET DONATIONS:
W4E distributed 2500 warm blankets to homeless population, safe house and refugee camps in Maryland in 2021 till date and will continue to do so with volunteers.
3. SCHOOL BAGS DISTRIBUTED:
500 School bags distributed with all necessary books, pencil pen, lunch box, and flask eraser.